Power Tripp's Man in Black  CGC, HIC, HS, RPT, BDD, AD, SSA, MADC, MGDC, MScDC 
AKA: Johnny Cash
DOB: July 16, 2008
OFA Good, CEA DNA Carrier

JC was my pick puppy from the Maggie x Risk litter.  As fate would have it, I decided not to keep a puppy afterall and Linda happened to be looking for one....and so he ended up in a wonderful home where he has become a VERY successful Agility dog.

Here is what JC's owner, Linda, has to say about this fab boy...

" If JC was a person he'd be the All- American Varsity Letterman; captain of the football team, track and field athlete, member of the glee club. He'd make being in the math club cool and be voted Prom King.

This amazingly biddable dog excels at every sport he's ever tried, throwing his whole heart into each task that is asked of him. He spent the first two years of his life immersed in the world of herding, quietly working sheep on the farm and training intensely for Open Sheepdog Trials. In August of 2010, we started training him on agility equipment and we have not looked back since. His natural athletic abilities became clear very quickly as he easily transitioned from 200 yard outruns to tight turns and handler focus. He has never let me down, consistently placing with the top dogs in his class in AAC, USDAA, and UKI trials. In 2012, we pushed the limits of our comfort zone and traveled to Edmonton for the Canadian Open (Canadian UKI Nationals) and actually won the Canadian Open final 22" class placing 2nd for a "Win On "spot on the Canadian WAO team in the Individual Agility Pentathlon Championship at the 2013 WAO in Spain. The spot was won by his half-sister Wynd (Risk x Porsche).

Johnny Cash is a once in a lifetime dog who inspires me to be a better handler, dog trainer, and caretaker. He was calm and confident even as a puppy and his easy going nature always puts everyone at ease, including all of the birds, ferrets, rabbits, skunks, reptiles, puppies, and foster dogs that we regularly welcome into our home.

He is my gracious companion, my teammate, and my accomplice in adventure. I will always be grateful to Kim for trusting me with this amazing boy."

Check out JC on You Tube!!

Johnny Cash's first Disc Dog Trial!

Johnny Cash Herding
Baby JC learning all about being a Disc Dog!
Johnny and his buddy Jack the Ferrett
Johnny play dead!
Johnny Cash is available at stud to approved bitches.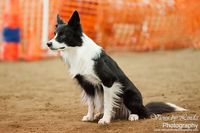 2008/7/16
OFA Good, CEA DNA Carrier
AKC DN0914303 OFA Good, Optigen CEA Carrier, CERF clear

AKC DL88406401 OFA Excellent Hips BCO- 4246E53F-PI CERF Normal BCO-2557 (Tested 2003)

Glen (ROM) ISDS 212551 A. MacCuish

Tanya ISDS 209705 I. Monroe

Astra Bet ISDS 224920 J.P. Beale

Jim ISDS 207736 J.P. Beale

Gwen ISDS 194978 J.P. Beale

Hope ISDS 158875 J. Mackillop

Jaz ISDS 199614 Sandra MacCorquodale

Gyp ISDS 190551 A. Haddow