Power Tripp's Juice All Juiced Up and Ready to Go 'Juice' RPT, CGC, ATCHc, EXSt Bronze, EXS Bronze,VBA, EXG Silver, EXSC Silver
AKA: 'Juice', JubeJube, Jude-a-loo
DOB: August 4, 2006
OFA Hips Excellent, OFA Elbows Normal
, CERF normal, Optigen CEA Normal

Juice is owned and loved (A LOT) by Laura Campbell.

Juice was ranked in the top 100 Agility dogs in all of Canada for 2010!!!  

  Juice is a full littermate to
Stash
and son of
Tripp 
x
Dru
...this boy has it all going for him.  He is a star in Agility and Disc Dog and is always turning heads where ever he goes. As a young dog, Juice qualified twice for the Canadian Disc Dog team and came in 16th overall at the Worlds in Atlanta, GA in 2007 at just over a year old.  Recently he and Laura competed in the Canada Cup Agility and took home 5th place overall and were able to share the spotlight and podium with some of the best dog/handler teams in the country! Juice is also a sweetheart of a dog and quickly steals the hearts of everyone he meets.  He is Laura's constant companion, spending time at her feet when nothing is going on. He is a dream to train and a very quick learner.  He also LOVES the water, like any Tripp kid does, so his favorite hobby is swimming in the lake at the cottage (usually till he is dragged out). 

Serious inquires for stud service to produce puppies for working and/or performance are welcome.
Please contact us
for more infomation.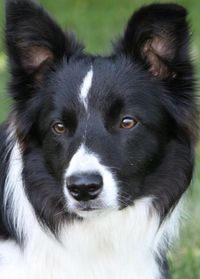 CBCA B5000755 AKC DN24179405 OFA Hips Excellent-BCO-7523E26M-VPI OFA Elbows Normal- BCO-EL1449M26-VPI
AKC DN00487107 CBCA B 5000237 OFA Good, CEA DNA Normal, CERF clear

Glen (ROM) ISDS 212551 A. MacCuish

Tanya ISDS 209705 I. Monroe

Astra Bet ISDS 224920 J.P. Beale

Jim ISDS 207736 J.P. Beale

Gwen ISDS 194978 J.P. Beale

Hope ISDS 158875 J. Mackillop

Jaz ISDS 199614 Sandra MacCorquodale

Gyp ISDS 190551 A. Haddow