Power Tripp's Bokeh Effect 
AKA: Bokeh (Bo-ka), Bobo
DOB: March 12, 2022
Bokeh is my pick puppy from the Grit x Imp. Nan litter. Once again, the connection was made early and Bo made it clear he was 'mine' from about 2.5-3 weeks old...maybe even a little earlier. The day after the rest of his litter left for their new homes we hopped in the truck for a 23 hour road trip to Montana. Bokeh spent the week proving to me that he's pretty much unflappable. He spent the week on a working ranch being co-pilot on a side by side as we rounded up 2000 + head of sheep from the breaks on 15,000 acres. He took every moment in stride then road back home another 23 hours where he has continued to amaze me with his maturity, being instantly house and crate trained and fitting into with the rest of the pack without making a sinlge wave. I'm in LOVE.
As he grows, I'm feeling more and more of a deep connection with this dog. I love all of my dogs of course but sometimes there's a 'special' one. One that when he looks in your eyes you know he's YOUR dog. He's THAT dog. It's been a while and I am giddy to think I'm this blessed.
With all of the incredible traits that I had hoped to pull from his sire, Grit, such as his sensible nature with other animals, his friendly nature with everyone he meets, the intensity to play, his biddability and desire to work. He's also got a lovely off switch of his dam, Nan. Which, I'm really appreciating! 
I just feel like adventure abounds with this guy and I can't wait to see where we go together!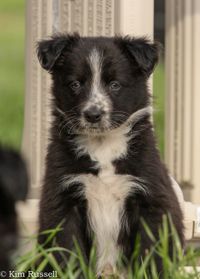 2016/11/21

ABCA 441205/AKC DN51677601 OFA Excellent, Shoulders normal CEA/DM/CM/IGS/MDR1 normal TNS carrier

2011/7/9

CEA DNA Normal by parentage, OFA Excellent, TNS Carrier, IGS Normal ABCA 369729, AKC DN38477701

ISDS 277219 & ABCA 333914 Joyce Heibertshausen B/W/T rough coat DNA Normal for CEA Hips OFA Good

2008/1/25

J.F. Maggin 2016 Nat 4 2014 I.Team 1, Dr 4 2013 I.d2Na4 2011 IntSu 5, I.Nat 7