About Power Tripp Puppies
At this time I am not taking any new reservations for upcoming litters. Please check back next year. 
I take great care and pride in ensuring that Power Tripp puppies get off to the best possible start in life. This starts with both parents being temperament and health tested and cleared of any genetic diseases. Parents and puppies are naturally reared on a raw, species appropriate diet. I do my best to educate puppy buyers on the benefits of feeding this way and encourage everyone to continue doing so. Before leaving for their new homes all puppies will be microchipped and registered with the ABCA and/or AKC (for performance purposes only).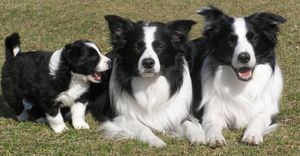 How Our Puppies Are Raised...
Our puppies are born and raised in our living room allowing them to gain lots of exposure to new sights, sounds, kids, people in different clothing/hats, adult dogs of various breeds as well as our cats.  Daily handling and exposure to new sights, sounds, surfaces and smells at the right time is KEY to a successful puppy rearing program. 

From birth to about four weeks old the puppies are in the whelping box with mom on a rug/bedding that allows them good footing.  After that the whelping box is separated by a low divider that is easy for the pups to climb over. Half of the box is filled with wood shavings for a potty area.  I place a crate with a blanket inside on the other side of the box along with their water dish and toys.  The pups are naturally drawn to sleeping in the crate and this is the beginning of a positive association with a crate.  This makes crate training MUCH easier for new puppy owners and relieves stress for the pups when it comes time to sleeping alone in a crate without their littermates.   

Once weaned the pups are fed in the sleeping/eating area of their whelping box and then immediately taken outside to relieve themselves.  They are then brought back inside and given time to play and romp around the living room and kitchen.  This helps lay an excellent foundation for housebreaking.  When weather permits the pups also spend some time outdoors on the deck or in a secured exercise pen area on the grass so that they get some exposure to the outside world.  Neighbours often stop by to sit with the pups, they see people walking past the house with other dogs, cars and buses driving by, the garbage truck and mailman, hear birds chirping and so on. 

Starting around four weeks old we take our puppies out into the 'real world' several times a week. We visit the training center where I teach so they are exposed early on to running and barking dogs, the noise of agility equipment, being crated in a new environment and of course get loved on by all the "doggy people" that want a puppy fix.  The pups also get a chance to try out some puppy Agility equipment like wobble boards, tunnels and mini Aframes.  Because we do some therapy dog work with the adult dogs we also have the chance to occasionally take the pups into schools and senior centers to be handled by larger groups of people of all ages. The travel time in the car going to and from these places is also a great way to get puppies used to being in a vehicle. This early exposure to "life" (crates, cars, visitors, new environments) makes a huge and positive impact on a pups confidence, thereby giving them a greater ability to develop into a very well rounded companion and competitor.

 
The Puppy Selection Process...
Not only do I carefully assess and screen our dogs and puppies but I do the same for potential owners. I spend endless hours raising these puppies, finding the RIGHT home is my first priority. Continue reading to find out how the puppy selection process works. 

DEPOSITS: Once communication has been established and it is determined that my breeding program and a potential new home are compatible I will accept a $500 deposit to reserve a puppy. I consider this deposit the beginning of your commitment to one of my puppies and expect you to fully understand my policies, breeding ethics and philosophies before making that commitment.  However if we feel that an appropriate puppy is not available, your deposit will be returned or transferred to a future litter. 

CHOOSING A PUPPY: I do NOT sell puppies on a "first come first served basis". I do not breed for color, nor do I take color or markings into consideration when selecting puppies. Because of the time I spend with each litter I  am able to determine and match the personality, drive, temperament and structure of each puppy to a potential owner's desires.  In the end I would rather return a deposit than place the wrong pup in the wrong home and therefore I offer strong guidance in the selection of pups. Puppy selection does not occur until pups are at least six weeks of age and normally closer to 7-8 weeks. This allows us enough time to evaluate the puppies properly.

OUR GUARANTEE: A live animal cannot be 100% guarenteed no matter how hard a breeder tries to do everything right. Yet, you can be sure I have done everything in my power to produce the healthiest, happiest puppy possible. Should it be determined that a puppy is not healthy or devolop a hereditary disorder at any point in his/her lifetime a replacement puppy will be offered.

WHAT I EXPECT FROM OUR PUPPY OWNERS: I care very much about the welfare of our pups for their WHOLE life. I strongly encourage all owners to consider the benefits of raw feeding and minimal vaccines. I also expect fairly regular updates from owners and hopefully lots of pictures too! I really do consider owners to be "family" and enjoy hearing from everyone.