About Imp. Fresh
Imp. Fresh AD
DOB: June 17, 2016
AKA: 'Fresh', Freshie
OFA Good/Elbows Normal, DNA CEA/DM/MDR1/IGS/TNS/SN/PL Normal, CERF Normal

When the opportunity arose to own a bitch sired by Kevin Evans Mirk I just couldn't turn it down.  Turns out the decision was a great one!  This girl is spunky, sweet and full of Border Collie style. Fresh gives us a FRESH start with some new bloodlines to move forward in our breeding program.  Fresh competes in Agility but is also working on some sheep from time to time. She's a breeze to have in the house and likes to make herself cozy on the back of furniture like a cat. Fresh has confidence without being a cocky dog and hasn't got any hang ups or sensitivities ...except the garbage truck which she feels is most certainly coming once a week to eat her bones! Luckily her big sister Lydia protects her!
Fresh is ISDS, ABCA and AKC registered. 
Fresh is co owned with my good friend Angela Dotson.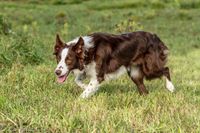 2016/6/17
ISDS 345928/ABCA 440788/AKC DN49798601 OFA Good, Elbows/shoulders normal DNA normal for full breed panel
2007/4/21

CEA DNA Normal, CERF normal, Hip Score : 21

International Supreme Champion 2008 2008 and 2011 World Trial Finalist 2011 World Trial 6th placing in Final 2010 Champion Selattyn Double Fetch Final 2009 International Qualification - 16th 2009 Welsh National 2009 - 12th 2009 Victor Ludorum (South Wales) - 7th= 2008 Welsh National - 4th 2007 Welsh National - 3rd

Jaff (D.J.M.Evans) 231424

Kemi Gypsy (L.Myatt) 262209

Int Sup Ch Star (ISDS 211076)

Moonspark Zac (ISDS 275036)