Introducing Grit...
  PWRTRIPP Grit
AKA: Nitty Gritty,Gritter, Gitter Boy
DOB: November 21, 2016
OFA Excellent, Elbows/shoulders normal
Grit is the boy I've been waiting for, striving for. I am over the moon with this dog. Since he was a puppy Grit has been full of himself and is EVERYTHING I had hoped for from Fleet x Proof.  He is confident, bold, determined and ready to go and a moment's notice but he oozes sweetness and has such nice disposition with kids and adults alike and is always kind to other dogs and animals. He is built for speed and has incredible, natural athletic abilities. When he plays Frisbee he goes vertical with so much ease it's amazing to watch...he uses that skill to 'go vertical' around the house too and he always seems to be perched up somewhere that he really shouldn't be but he's too cute to give him trouble for it! They don't call them naughty spots for nothing! He must have spent too much time with Gary the Goat when he was pup! 
Our favorite past times together are Disc, Sheep herding and Grit modeling for the camera for me;-) He truly is my go to dog for everything because I can take him anywhere and he's up for anything. 
Grit is ABCA and AKC registered.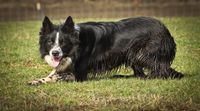 2016/11/21
ABCA 441205/AKC DN51677601 OFA Excellent, Shoulders normal CEA/DM/CM/IGS/MDR1 normal TNS carrier
2011/7/9

CEA DNA Normal by parentage, OFA Excellent, TNS Carrier, IGS Normal ABCA 369729, AKC DN38477701

ISDS 277219 & ABCA 333914 Joyce Heibertshausen B/W/T rough coat DNA Normal for CEA Hips OFA Good