About this breeding...
Power Tripp's Love This Life x Imp. Dave
DOB: December 21, 2018
I took notice of Dave when brought Proof to see Fleet at Cheryl's last Fall. Dave's structure appealed to me at first.  He has a lovely balanced body with good leg under him. When I said hello to him in his kennel he was outgoing and eager to give a friendly greeting.  After watching him work and seeing him move I know without a doubt that he will compliment Anni so well. Cheryl speaks highly of Dave and says he is wonderful with other dogs, kids and adults alike.  His talent on sheep is something to be admired!
All of Dave and Anni's pups are living it up in their new homes and participating in everything from Agility, Flyball and Dock Dogs to Disc.
Anni is OFA Good, CEA/TNS/NCL/MDR1/DM normal
Dave is OFA Excellent, CEA carrier, TNS/IGS normal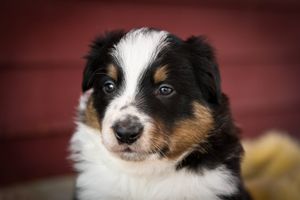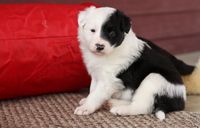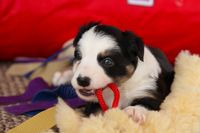 2012/5/7

ABCA 406098, CBCA 11302, ISDS  DE/320895 OFA excellent, CEA carrier, PRA clear, I-GS normal

Glynn Vom Daenischen Wohld (ISDS 282592) [Deu]

2014/5/30

OFA Good, BAER Normal, CEA/DM/ICM/MDR1/NCL/SN and TNS Normal

2009/1/10

AKC DN23731101 CEA DNA Normal by parentage, CERF Normal, OFA Excellent, TNS Normal

AKC DN00487107 CBCA B 5000237 OFA Good, CEA DNA Normal, CERF clear

AKC DN10675207 CBCA B5000405 OFA Good Hips BCO-6995G28F-PI OFA Normal Elbows BCO-EL1249F28-PI

2011/7/9

CEA DNA Normal by parentage, OFA Excellent, TNS Carrier, IGS Normal ABCA 369729, AKC DN38477701

ISDS 277219 & ABCA 333914 Joyce Heibertshausen B/W/T rough coat DNA Normal for CEA Hips OFA Good