About Shayde
Rival's Sudden Blackout at Power Tripp FM
AKA: 'Shayde', Slim Shady
DOB: January 6, 2010
CEA DNA Normal, OFA Excellent, TNS/IGS Normal
17 3/4" tall, 24lbs

 Shayde is a very confident, outgoing girl that at a very young age showed loads of drive and focus. This little girl has everything going for her and we are so happy to have her as part of our pack.  In the Flyball lanes she is all business, runs a consistant 4.1 rarely makes a mistake. Shayde has near perfect structure, moves like a dream and is very fast on her feet. Around the house Shayde is quiet but she is also very quick to be up and getting involved in any action that is going on.  She is definetly Peter's dog and is usually found napping on his lap during her down time.
Pedigree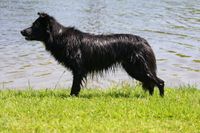 2010/1/6
CEA DNA Normal through parentage, OFA Excellent, CERF Norm
OFA Good, CERF and DNA Normal, BAER Normal

Widdalside Dave (ISDS 209530)

Sagebrush Wally (ABC 29839) [Usa]