About Punk...
Power Tripp's Loud n Proud
AKA: 'Punk'
DOB: August 27, 2014
CEA DNA Normal by parentage

 Punk's pedigree is chocked full of incredibly talented and proven dogs in both sport/performance as well as herding.  Expectations are high for this dog but something tells me he won't have to try very hard to live up to them as his natural abilities will likely outshine any expectations we have.  Punk lives up to his name thru and thru.  He's confident, quick, sharp and a bit edgy with a sweet temperament thrown in for good measure. 
Unfortunately at a routine check up at the vet, a heart murmur was discovered for Punk. This was determined to have been caused by a virus he contracted in utero or as a very young puppy. The vet feels that this will shorten his life but at this point there is zero sign of stopping for this guy!  So onward we go, training for Flyball and living life to the fullest as dogs do best!
Pedigree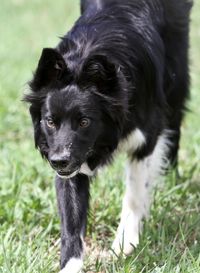 2014/8/27
CEA DNA Normal by parentage
2010/1/6

CEA DNA Normal through parentage, OFA Excellent, CERF Norm

OFA Good, CERF and DNA Normal, BAER Normal